According to the World Health Organization statistics, the number of people suffering from cardiovascular diseases is increasing every year. Moreover, monitoring of cases shows a tendency towards the 'rejuvenation' of diseases. In other words, not only the elderly but also middle-aged and even young people are at risk today. Daily control by using a blood pressure monitor can help to detect heart diseases and to prevent a lot of complications (for instance, a stroke or a heart attack).
Nowadays there is a great variety of models of automatic blood pressure monitors from different manufacturers. Which one to choose? What to take into consideration when buying one?
Firstly, it is important for a blood pressure monitor to be a medical device and to meet European and international quality standards.  As do the blood pressure monitors of the Swiss brand B. Well. Their measurement results can be trusted. Secondly, it is better to choose a blood pressure monitor with mains adapter included as you can save on buying batteries. If the batteries suddenly run out, you can still use the device.
Perhaps one of the most important parts of the blood pressure monitor is a cuff. The cuff must fit the size as it has an impact on the accuracy of the result. The cuff should be fastened freely, without tension. If it is too small, it will lead to hand compression and, therefore, will give an inaccurate overestimated result. The most convenient alternative is a universal cuff that suits people with different constitutions. Besides, pay attention to the shape of the cuff and give preference to a fan shape one. The fan shape cuff has an ideal fit to distribute air pressure evenly. It ensures accurate results and comfortable measurement.
A user's arrhythmia may also affect the accuracy of the result. If the device is not designed for this, the result can be significantly distorted. Therefore, choose models equipped with an arrhythmia indicator. These blood pressure monitors will alert you about the problem and incipient heart diseases so that you will be able to consult a doctor before the disease aggravates.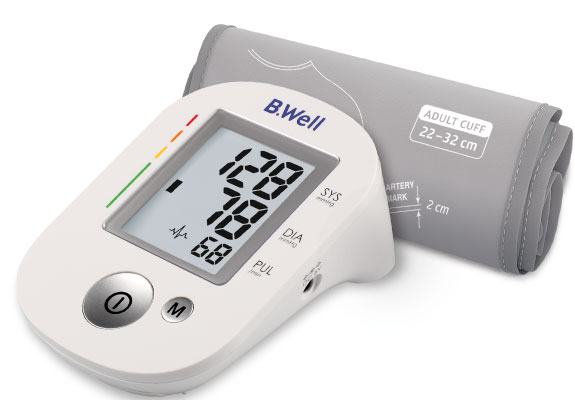 If you plan to measure your blood pressure regularly, it is better to take a device with extended memory. This allows comparing results and tracking dynamics. It is convenient if the blood pressure monitor has such a 'hint' as a blood pressure indication scale that allows you to have an understanding of the results of your measurement. For example, the blood pressure monitor B.Well PRO-35 with a mains adapter combines all these necessary components and at the same time, it is good save for money. These are the reasons why it's in high demand.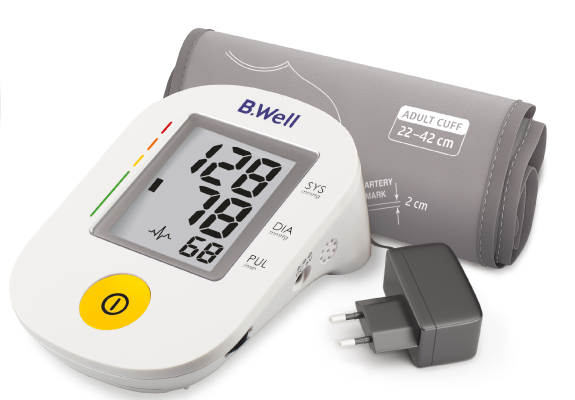 However, since all people have their own needs and characteristics, there are also blood pressure monitors with special functions. For instance, the PRO-36 blood pressure monitor is a convenient solution for people with impaired vision as it gives voice instruction and results of the measurement. The volume can be adjusted. It is easy to handle pressing only one large yellow button to start the measurement.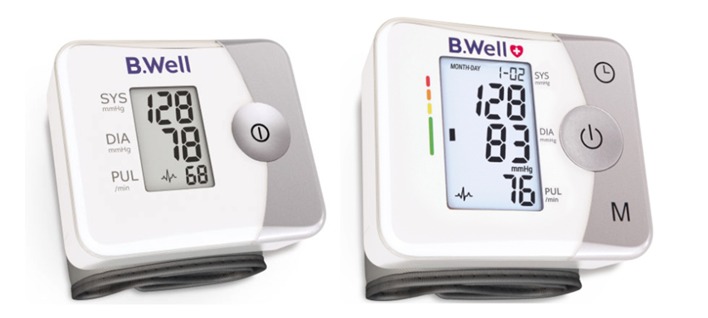 If you often travel, go on business trips, or to the countryside for the summer period, then wrist blood pressure monitors such as PRO-39 or MED-57 will be a perfect solution for you. These are compact blood pressure monitors that will not take up much space and will fit even in a handbag. The devices have a large display, a pulse arrhythmia detection and they are easy to handle.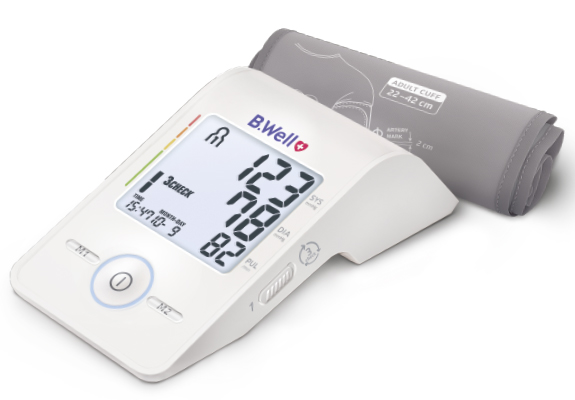 Also, B.Well MED-55, a unique blood pressure monitor with intelligent measurement, is an excellent option for those who prefer high-end technologies! This device will not only automatically perform three consecutive measurements, but also analyze the results using a special algorithm. Colored display backlight (green, yellow, or red) will indicate the level of blood pressure. Moreover, the blood pressure monitor has an extended memory of 60 measurements for each of 2 users with date and time. Furthermore, the device has a special cuff check indicator. The accuracy of the result depends not only on a reliable blood pressure monitor but also on the correctly applied cuff. If it is too tight or too loose, the B.Well blood pressure monitor will show an error symbol.
Choose a blood pressure monitor that will fit you and be sure that your health is under control!