Cough, cold, allergy? B.Well nebulizers will help you to defeat diseases. Inhalation therapy is the most effective method of treating the respiratory tracts.
The B.Well PRO-110 compressor nebulizer for example is on par with professional devices and complies with European standard EN-13544 for nebulizers.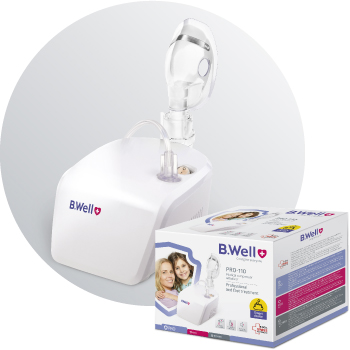 B.Well TH-135 is the best nebulizer for small children. The inhalation is both efficient and comfortable. The noiseless spray will not disturb a sleeping baby, and the possibility to operate at an angle of up to 45° allows to perform inhalation during sleep. Mesh spraying is the most up-to-date, innovative technology. Using low frequency ultrasound, the fine mesh membrane "sieves" the drug, converting it into aerosol with particles smaller than 5 μm.  B.Well TH-135 is designed for all nebulizer therapy medications. Medical cup can be boiled to disinfect the membrane and clean drug residue.