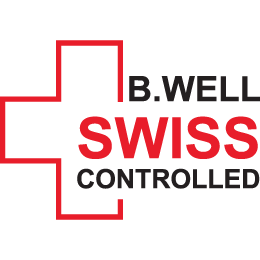 Product was developed, verified and supervised by B.Well Swiss AG, Switzerland. Applied Swiss control system assures high quality, endurance and safety of all B.Well products.

The quality management system of B.Well Swiss AG is certified to comply with the international norms ISO 13485:2016. B.Well Swiss products comply with the Medical Devices Directive 93/42/EEC.

Warranty period is 2 years from the date of purchase for device and 6 months for standard nozzles.