Health is the most important thing for every person. Of course, all people are different and everyone has their own priorities, but healthcare unites us all. Therefore, health care should be paramount for every person. After all, we all want to live long and feel great at the same time.
Fortunately, we live in an age of high technologies and have access to many different gadgets that help us monitor and take care of our health. For example, such devices as blood pressure monitors. The opinion that only older men need a blood pressure monitor, or those who have high or low blood pressure, is wrong. This device is necessary in every first aid kit and no matter how old you are. This is especially important given the fact that heart disease has rejuvenated due to the stressful, busy lifestyles of the younger generation.
The blood pressure monitor will help diagnose hypertension or high blood pressure, which is known as a "silent killer" of people. After all, hypertension can not manifest itself in any way for years, and then suddenly appear in the form of heart attacks, strokes, coronary heart disease, cardiac distress or kidney failure. The blood pressure monitor allows one to note a systematic increase in blood pressure and see a doctor in time. A timely preventive visit to a therapist and cardiologist is better than calling an ambulance, don't you agree?
Today, many different modern blood pressure monitors are available, which independently control our blood pressure. What to consider when choosing?
When choosing a family blood pressure monitor, give preference to devices of proven well-known brands who value their reputation and, therefore, quality.
Pay attention to the certificates and quality marks.
Pay attention to useful features such as arrhythmia indicator, memory options (for pressure diary), etc.
The blood pressure monitor ability to be charged from the mains and from batteries.
There is one point that few people pay attention to: the size and quality of the cuff. The fact is that if the cuff is small, then the measurement will be incorrect, and the result will be distorted. Here are signs that the cuff is small:
The cuff is difficult to put on,it "gets stuck", you have to make an effort to put it on and fasten it.
Velcro barely holds, continues to unfasten when inflated.
The markings on the cuff indicate that the arm is out of size range (there is an arrow at the end of the cuff that should fall within the range. If the arrow is outside the range, the cuff is small).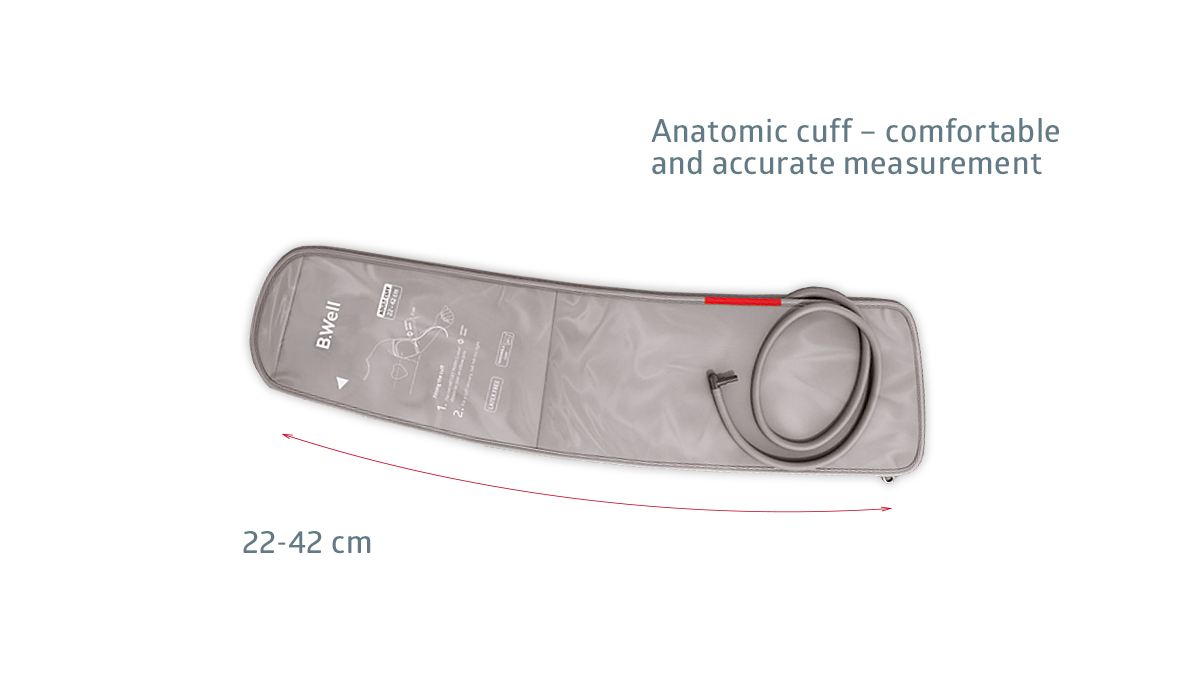 Unfortunately, the small size of the cuff is a common problem, since for many people the arm circumference goes beyond the standard. For example, overweight people, as well as athletic men. Moreover, people often put on weight with age, which also increases the total number of those who do not fit the standard cuff of the blood pressure monitor. How to be in this case? It is worth choosing a blood pressure monitor with a universal cuff.
A universal cuff is one-size and will fit everyone. There is no need to adjust the size. In addition, the universal cuff can be used by all adults in the family, even if they have different builds. It is very convenient.
As a rule, more expensive models of blood pressure monitors are equipped with such cuffs. The price difference is often very significant. However, the manufacturers of the Swiss brand B.Well care about each user, so even affordable devices have complete sets with universal cuffs. For example, universal cuffs (22-42 cm size) are available for the PRO-33 and PRO-35 models.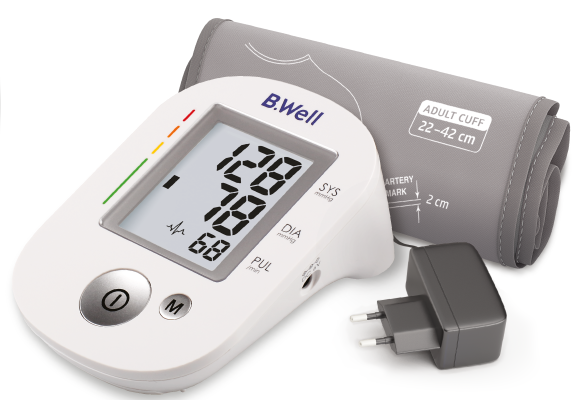 These are simple, affordable and high-quality devices, with which each measurement will be quick, comfortable, and most importantly, accurate. The blood pressure monitors are equipped with an arrhythmia indicator and Intellect Classic technology, which makes it possible to determine the optimal level of cuff inflation for each individual. The correct level of pressure in the cuff allows to get an accurate result. B.Well cuffs have an anatomic shape. Therefore, they fit the hand perfectly and distribute pressure evenly. This guarantees a painless procedure and a reliable result. All B.Well cuffs have size range markings. Plus, the cuff is easy to clean thanks to the washable, removable cover.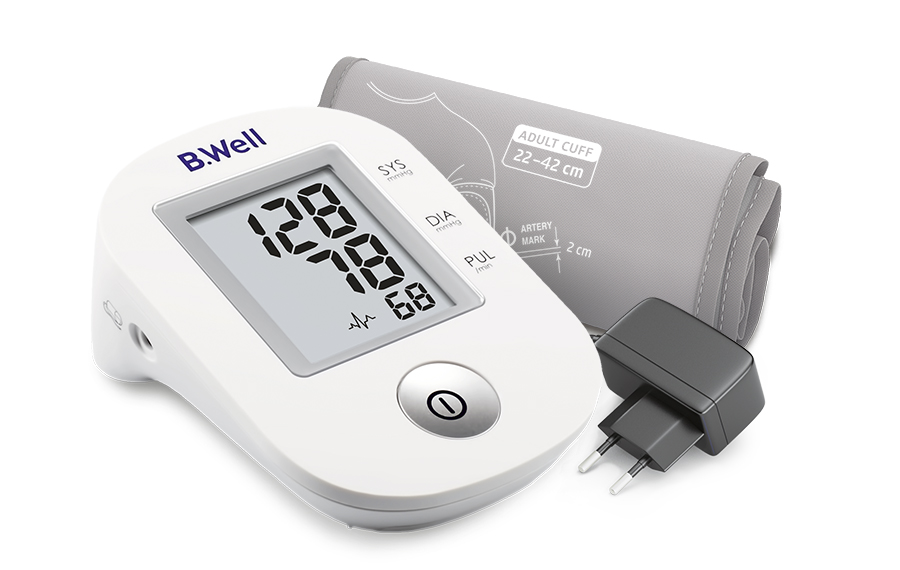 The correct cuff size is essential for accurate measurement. B.Well blood pressure monitors with a universal cuff are an excellent choice. Monitor your blood pressure and be healthy!