In 2023 Arab Health event will be held on 30 January - 5 February in Dubai World Trade Centre and Online 9 January - 2 March 2023.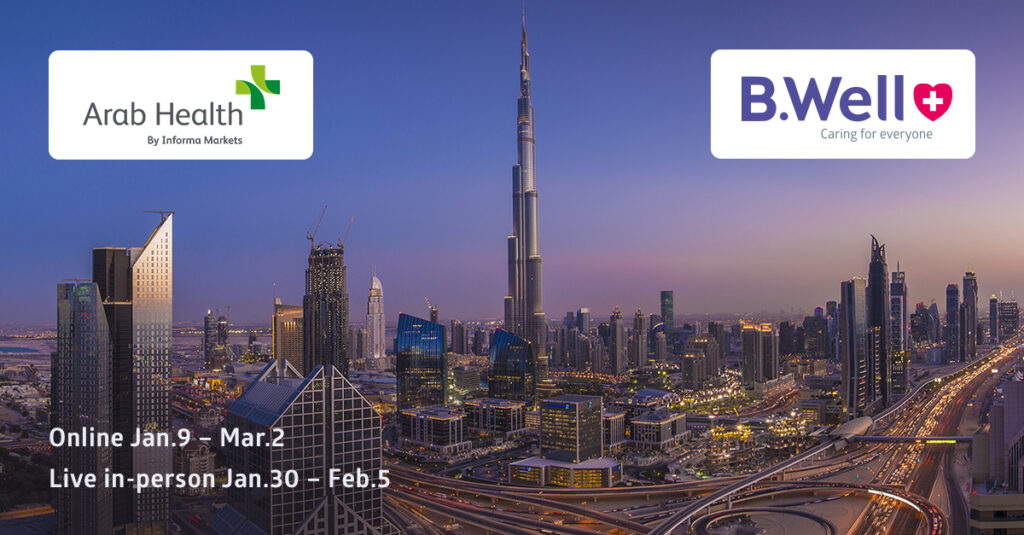 Annually, Arab Health brings key stakeholders together to collaborate and make healthcare a more sustainable, positive impact industry. 2022 was an exhilarating edition of Arab Health that welcomed over 80K+ professional visits.
B.Well kindly invites you to participate in the Arab Health 2023 online and live in-person exhibition. Join us at Arab Health 2023 and immerse with the healthcare industry - Register now and get your free access to the Live In-Person (30 January - 5 February)
Visit our stand at the Swiss Pavilion SA.K51 and meet B.Well Sales Director Geert Groenewegen and General Manager Bernadette Maeder-Holenstein. They will be glad to answer all your questions and tell you everything about B.Well products and mission.
In addition to the Live event, Arab Health 2023 will take place Online 9 January - 2 March 2023, the event will run in a hybrid format, in order to support a wider audience. Visit our company profile to find more information!
We are looking forward to presenting you a new generation of B.Well health care products. You can ask all your questions in our company's page live chat.
Be well, visit Arab Health!