Taking сare of oral hygiene means taking care of health. White teeth, fresh breath and healthy gums are important indicators of human well-being and personal care. The health of the body as a whole largely depends on the state of the oral cavity.
It has been proven that our usual daily oral care product - a toothbrush - can clean ¾ of the oral cavity, including teeth. An irrigator can give us a 100% cleaning effect. In many homes, this professional oral hygiene product has long found its place next to a toothbrush. 
What is an irrigator and what does it do?
Oral irrigator is the device which irrigates a mouth with a directed water stream. Water is pumped into the oral cavity under pressure, massages the gums, improves blood circulation, cleans the interdental spaces and periodontal pockets from plaque and food debris. The device consists of mini hydro pump with adjustable water flow, water tank and replacement nozzles. The advantage of the irrigator is that it is a professional home care solution for everyone. 
What is an irrigator for?
The irrigator, being an easy-to-use everyday device, is able to solve many issues for improving health, preventing and treating diseases. Irrigator:
maximizes oral hygiene at home;
prevents the development of bacteria and caries;
prevents health problems such as periodontitis, gingivitis, etc.;
qualitatively cleans teeth, crowns, dentures, braces, implants, veneers, bridgework;
performs gum massage to increase blood microcirculation and improve angenesis;
removes plaque and prevents the appearance of tartar.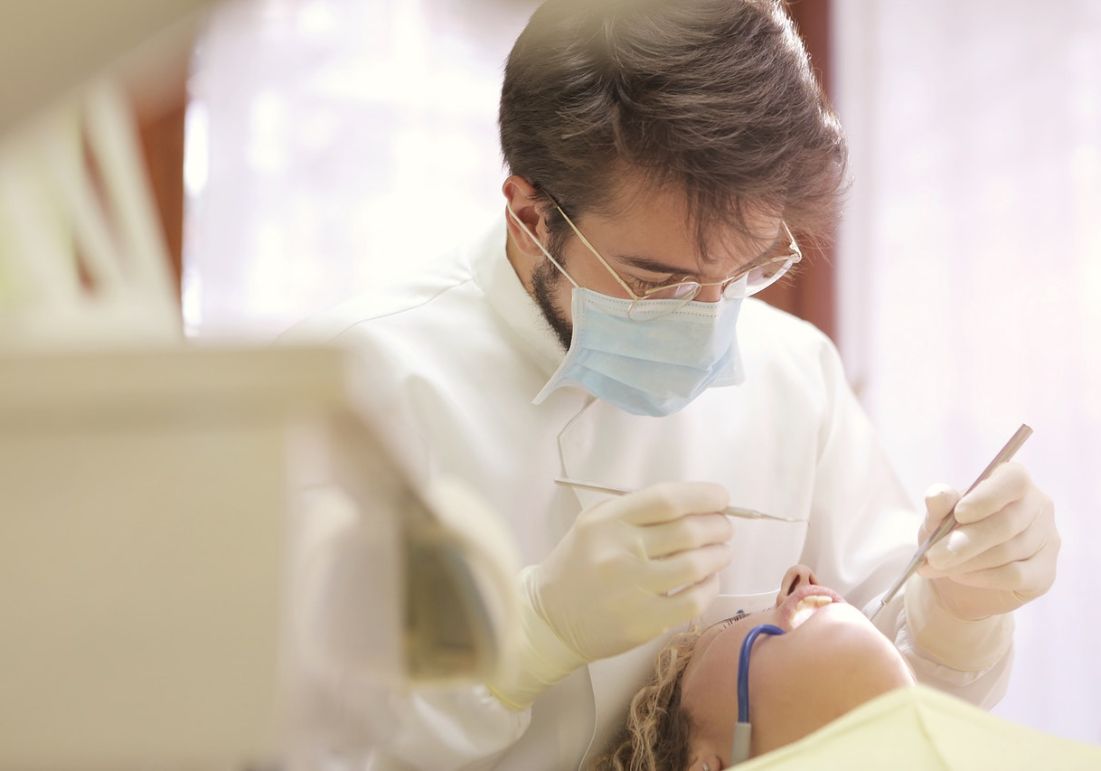 Doctors also recommend irrigators for other special cases:
overcrowding of teeth;
inflammation of gums;
bad breath;
diabetes;
for pregnant women.  
It is worth noting that it is important to take care of the oral cavity for everyone, and especially for those who have artificial structures in the dental cavity. 
What to fill the irrigator with? 
The water reservoir for the irrigator can be filled with clean filtered water or special concentrates for the irrigator. No other solutions can be used in irrigators. 
B.Well Irrigators
B.Well has been expanding its range of irrigators year after year. This is a consequence of the increased demand for this type of self-care. Irrigators have undergone significant changes over the years. Bulky, noisy devices have been replaced by portable, quiet and comfortable ones.
When designing the device, B. Well product managers and research groups take into account the needs of the consumer and global technical trends. After production, the device undergoes technological testing by professional engineers. All B.Well irrigators are certified for compliance with European and international standards ISO 13485: 2016, Medical Device Directive (MDD) 93/42 /EEC or Medical Device Regulation (MDR) (EU) 2017/745. 
B.Well has 2 lines of irrigators: PRO and TECHNO. PRO devices are easy to use, professionally and efficiently perform their functions. The devices of the TECHNO line use the advantages of modern technologies, therefore they are the most effective.
All B.Well irrigators have a pulse mode of operation. It is this mode that has been proven to be effective. A thin, pulsating jet of high pressure water is supplied from the irrigator and allows you to professionally clean the oral cavity at home. 
All B.Well irrigator nozzles rotate 360° for more comfortable use: you do not spin the irrigator itself to clean hard-to-reach places, only the nozzle.  
Portable Irrigator WI-911
The WI-911 is a PRO line irrigator. Despite its small size, it professionally cares for teeth and massages gums. You can take it with you, as well as use it for two persons.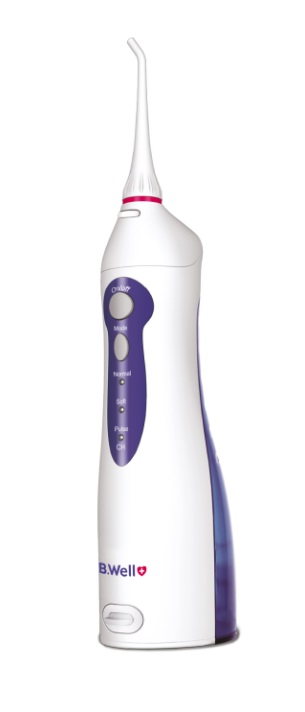 Characteristics:
optimal power of 275-620 kPa comparable to the best fixed models for effective hygiene;
3 modes of operation: normal (effective cleaning), soft (for sensitive teeth), pulse (revitalizing gum massage);
2 standard nozzles;
сonvenient 150 ml water tank;
wireless. 
The portable B.Well irrigator does not need an additional outlet in the bathroom or batteries: it is powered by a modern battery. One full charge of the device lasts up to 70 minutes of continuous operation. After 2 minutes of cleaning the device automatically turns off. Travel friendly. 
Portable Irrigator WI-912
The WI - 912  is a TECHNO line irrigator. In addition to its convenient size, it uses advanced technologies to clean the oral cavity.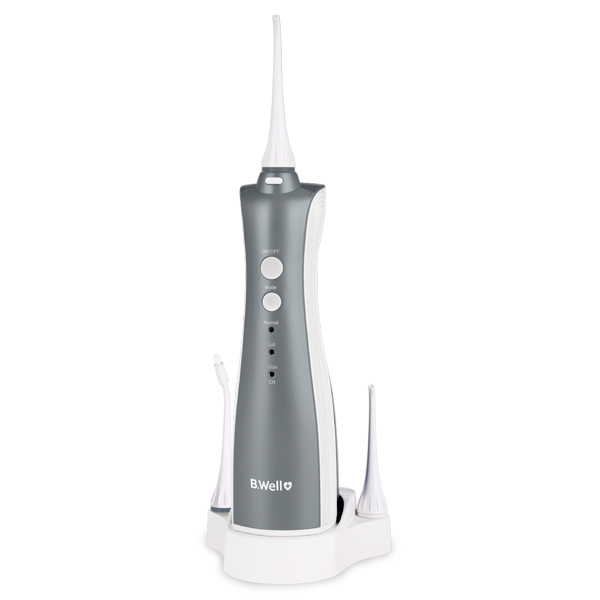 Characteristics:
power of 720 kPA for complete cleaning of teeth, comparable to the best fixed irrigators. The procedure is more efficient and faster, will take you a little time;
3 modes of operation for comfortable usage;
5 nozzles: 2 standard, 1 tongue cleaner, 1 orthodontic (for braces), 1 periodontal(for gums);
2 control buttons: on / off, mode selection;
non-contact charging station;
сonvenient 150 ml water tank;
storage bag. 
B.Well WI-912 is a portable irrigator suitable for 2 users. A large number of nozzles will solve various problems in the oral cavity. The irrigator has a contactless induction charging with a convenient stand for two nozzles. It can work without recharging up to 60 minutes. After 2 minutes of cleaning the device automatically turns off. Travel friendly. 
Fixed Irrigator WI-922
The WI-922 is a stationary PRO line irrigator for the whole family. Efficient, quiet and stylish, it will brighten up any bathroom. Although fixed, it is compact in size. A large number of nozzles, 10 modes of operation and increased power, it will solve many health problems in the oral cavity for every family member. It will make the teeth of  your family shine.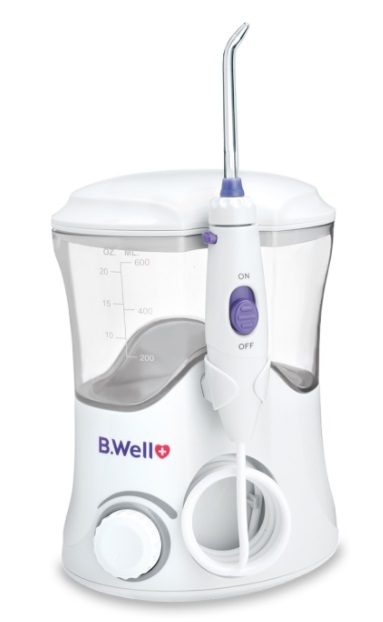 Characteristics:
regulated power from 207 - 827 kPa for effective cleaning;
10 power modes - stepless power regulation. You choose the speed of water supply that is convenient for you; 
7 nozzles: 3 standard, 1 tongue cleaning, 1 implant, 1 periodontal (for gums), 1 orthodontic (for braces);
convenient case cover for storage of nozzles;
water tank - 600 ml; 
Irrigator is mains powered. Continuous operating time is up to 30 minutes.
How to use an irrigator?
Fill the water tank with warm filtered water for a comfortable procedure.
Bring the irrigator to the mouth and prepare for the procedure.
Choose the cleaning mode, it is better to start the first procedures with the soft Soft mode.
To increase the effectiveness of cleaning the oral cavity, it is better to divide it into zones.
Treat easily accessible areas first, then difficult areas.
The nozzle should move from the gum to the edge of the tooth.
The average cycle of the procedure is several minutes.
Pour out the remaining water from the water tank, remove the water tank and dry it.
To make the irrigator last longer , since it comes into contact with water, there must be a special approach to them.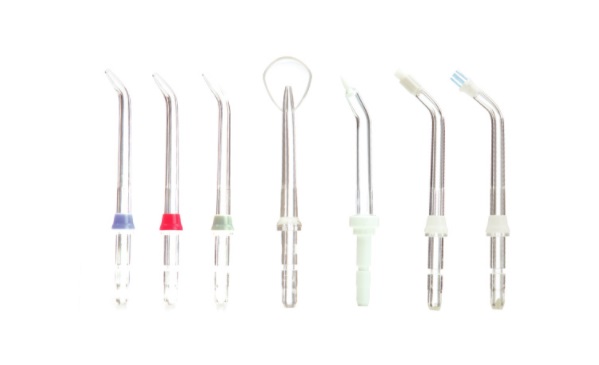 For a long service life:
pour filtered water;
after the procedure, wipe the water tank and dry it;
do not leave water in the irrigator itself;
a nozzle needs to be changed once every three months.
To care of the oral cavity is not only about good-looking and well-being. It is about your health.
Take care of yourself and your loved ones. And be healthy!