Today dentistry patients do not ask the question "What is irrigator?" This device has long been on the market and already firmly enhances its position on the bathroom shelf of many families. However, if someone does not know, irrigator is a device for deep teeth cleaning and the entire oral cavity care. It does not eliminate the use of a toothbrush. These two devices perfectly complement each other, so that you can safely ensure daily professional oral care.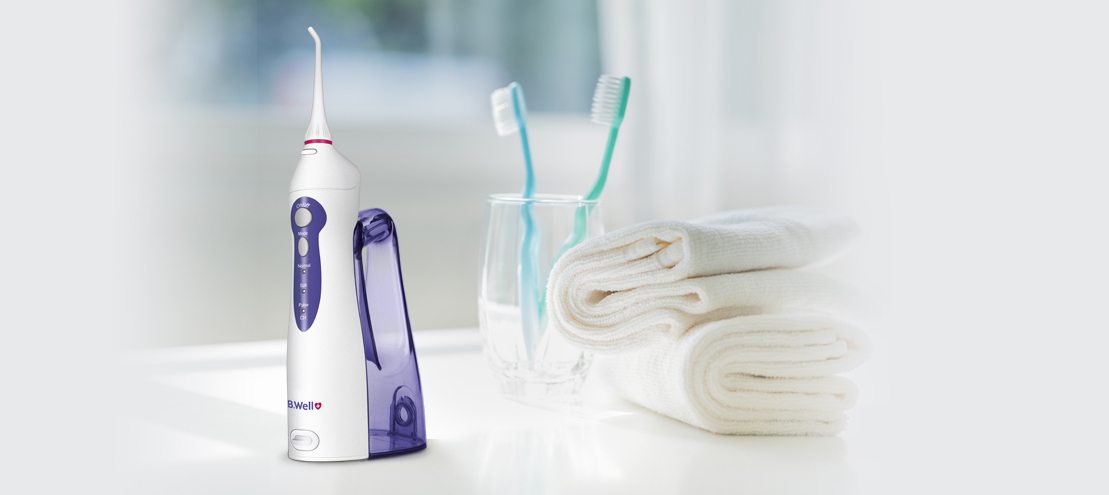 Irrigator is recommended to use for all groups of people who would like to maintain oral health, have white teeth and healthy gums. However, some need to use it in particular:
those who have dentures, braces, implants and veneers in the mouth. Owners of any dental structures are doubly important to ensure the oral cavity care, so as not to aggravate the situation and not provoke the development of diseases;

pregnant and nursing women. In this particular period, women are especially important to secure competent care, in order to prevent the development of diseases, for example, such as gingivitis. It is dangerous not only for the health of mom, but also for a kid;

people with the initial stage of dental diseases (caries, tartar, periodontitis, etc). 
However, there is still the question "Which irrigator to choose?" The market of irrigators is huge and full of different models for every taste, color and wallet. 
Choose only among medical devices that have been tested and have appropriate certificates
One of the best brands producing oral care solutions is B.Well Swiss. Its irrigators are developed, verified and supervised in Switzerland. The company's products comply with the European Medical Devices Directive 93/42/EEC. 
Decide what type of irrigator to choose: portable or fixed one
It is hard to say which kind of irrigator to choose exactly because your choice should support your own needs, including the state of your teeth and your health goals.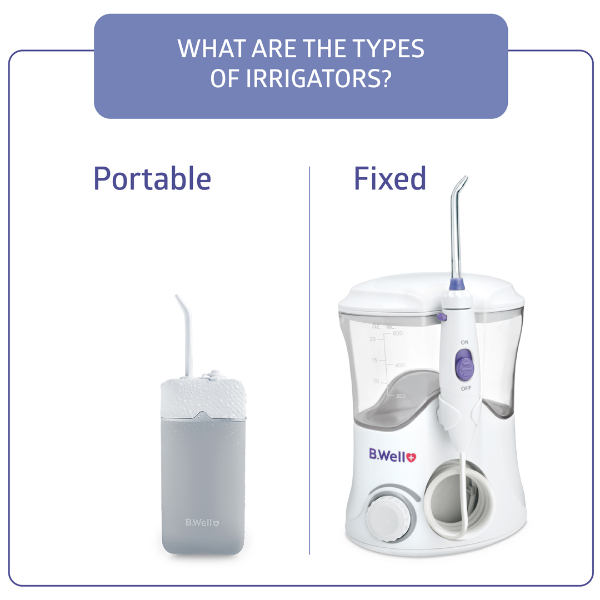 If you do not have critical problems with your teeth and gums, and you need irrigator for deep daily oral care and disease prevention, then choose a portable type. For example, WI-911. It is compact, lightweight and low in noise. Irrigator works from the built-in lithium-ion battery, one charge of which is enough for a month. If necessary, you can easily take it with you on trips. The same is WI-912 portable irrigator with extended nozzle package and with more power. PR0-913 mini irrigator was developed especially for those who would like to take an oral care device on trips. 
If you need a device for the whole family, where everyone has their own needs, then an excellent option will be a fixed model, such as WI-922. It has 7 nozzles in the package: three standard nozzles for oral cavity care, tongue and breath nozzle, orthodontic nozzle, periodontal gum nozzle, and implant, bridge, crown, veneer nozzle. The capacity of the water tank is 600 ml which is optimum for durable oral procedures and usege of many people. The device is quite compact, does not take a lot of space, and сharges from the electric grid. Continuous operating time is up to 30 minutes.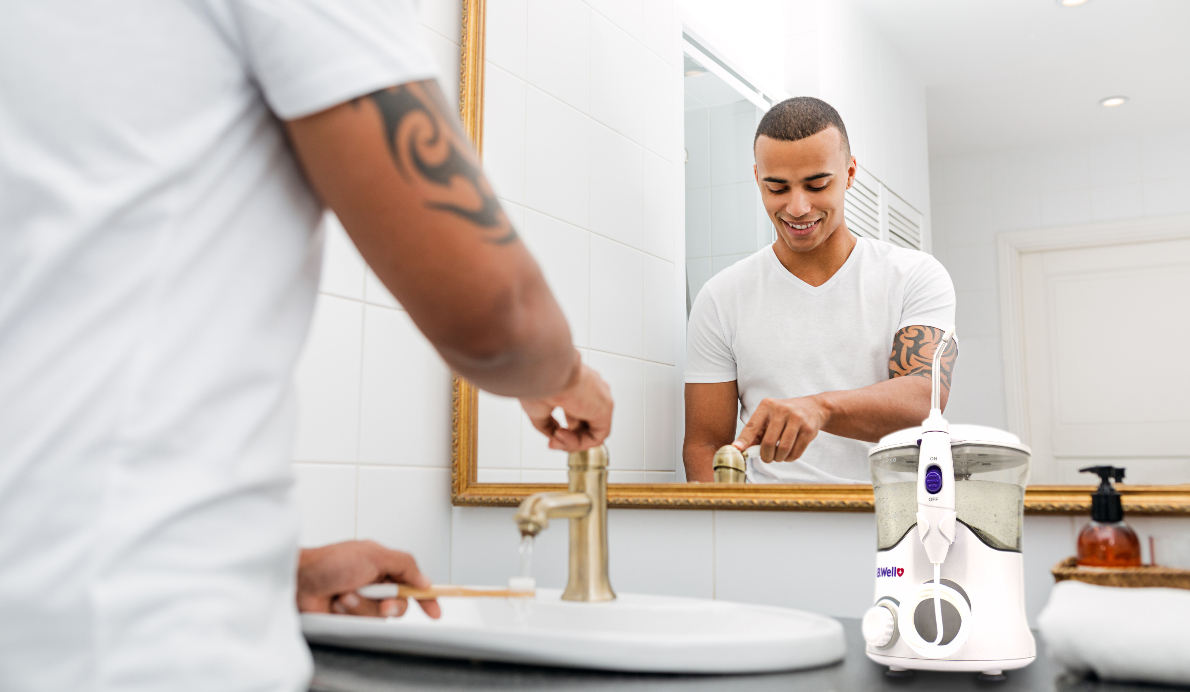 Pay attention to power
Power is one of the main characteristics of the irrigator. The higher it is, the more intense the supply of water jet will be. The power of irrigator is measured in kilopascals (kPa), where kPa is a unit of pressure. 
At a high-quality portable irrigator, the power must be no less than 520 kPa, and in the fixed ones at least 550 kPa. WI-911 portable irrigator has power of 620 kPa, WI-912 of TECHNO line has power of 720 kPa, and power of mini PRO-913 is also 720 kPa. All of them have 3 power modes: normal (for efficient cleaning), soft ( for sensitive teeth and gums) and pulse (for gum massage). The WI-922 fixed model has a wider range: 10 power modes are smoothly adjustable from 207 to 827 kPa. This allows every family member to choose a comfortable level of water pressure.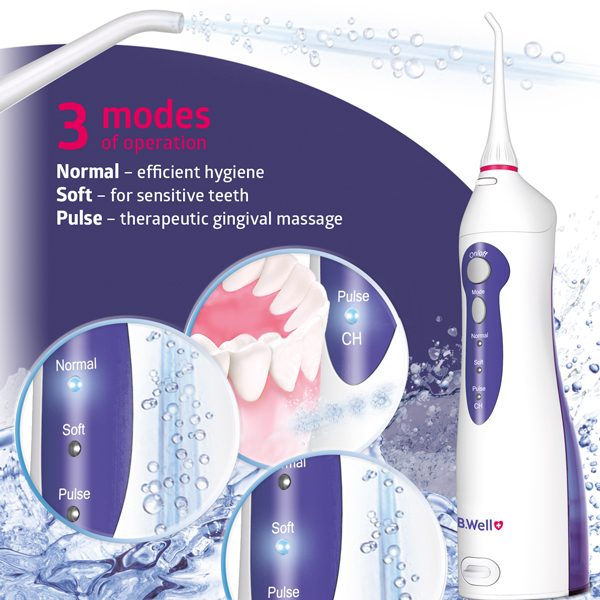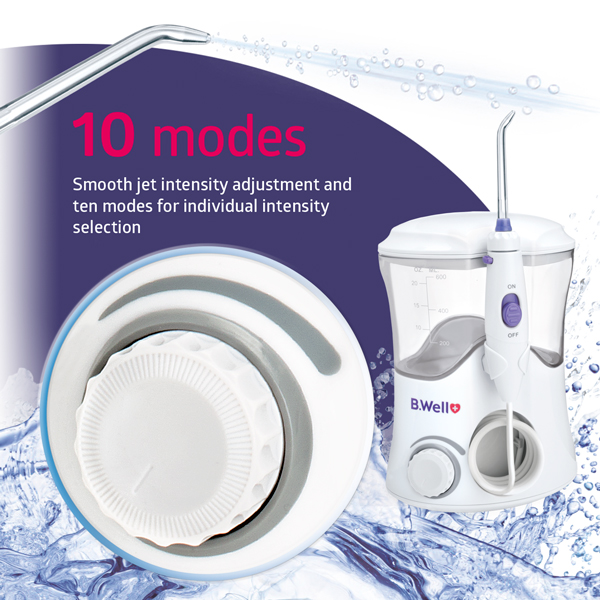 It should be paid attention to the fact that usually portable models have a stepped mode change, and fixed - a smooth one. 
It is better to start with the soft mode, especially in the first two weeks of the use of irrigator, since at this time the gums get used to water pressure, and can bleed if it is high. For people with periodontal disease, it is also important to monitor power, choose a soft or pulsating mode, as well as to use special periodontal nozzles. Special attention should be paid to the power when a child uses a device. The irrigator can be used by children from 6-7 years old in the presence of adults.
Pay attention to the water jet pulsation frequency
It is also an important point that due to the fact that the water jet "hits" teeth, food debris and soft plaque are cleaned qualitatively. In order for the process to be effective, the number of pulses per minute should be no less than 1200.
Water pulsation frequency of WI-911 is 1600 pulses/min, WI-912 - 1,420 pulses/min, and PRO-913 - 1400-1800 pulses/min. If this frequency is too strong for you, select a softer mode or choose a fixed irrigator. For example, in Wi-922 fixed irrigator, the pulsation frequency at the lowest power is 1250 pulses per minute. 
Clearly define which nozzles you need 
Almost all irrigators have a standard nozzle that supplies a thin stream of water. It is universal and suits all users. It is this nozzle that is good for people without diseases who just want to keep oral cavity clean and healthy.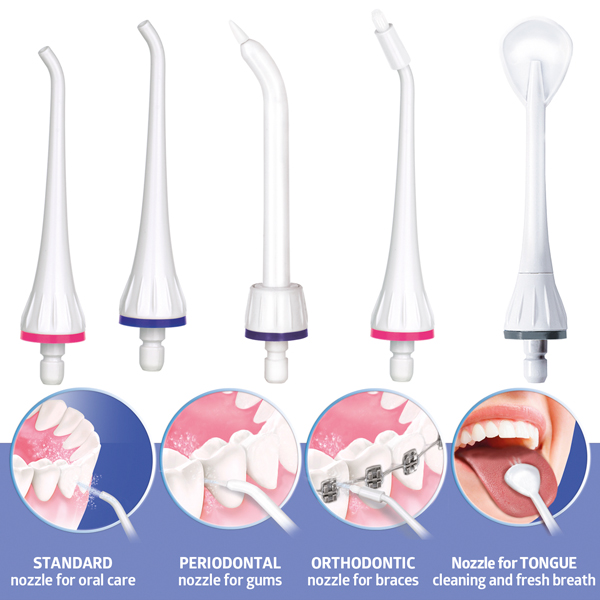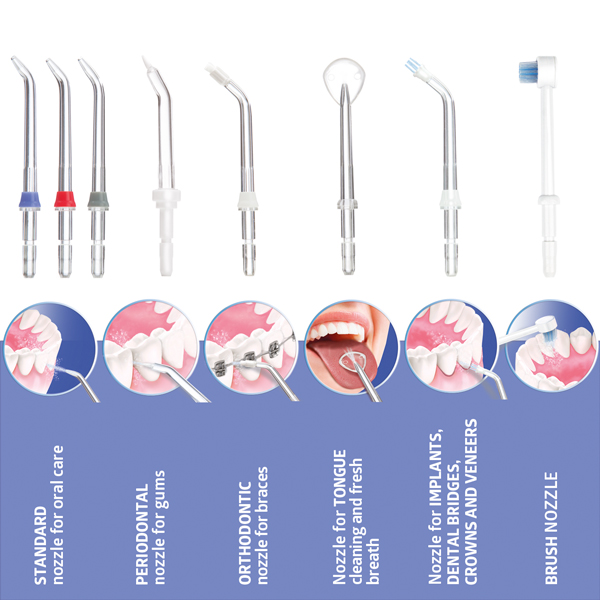 For example, WI-911 irrigator has 2 standard nozzles with different color rings, so 2 people can use the device. WI-912 offers a wider range of nozzles: in addition to 2 standard nozzles, there are tongue cleaner, orthodontic and periodontal nozzles. PRO-913 has one standard nozzle which is suitable for everyone. In fixed irrigators, as a rule, the set of nozzles is wider than in portable ones: in addition to the standard, there are also specialized ones. WI-922 offers 3 standard nozzles, nozzle for cleaning the tongue, an orthodontic nozzle for those who have braces, periodontal for those who have problems with gums, as well as a nozzle for implants, dentures, and veneers.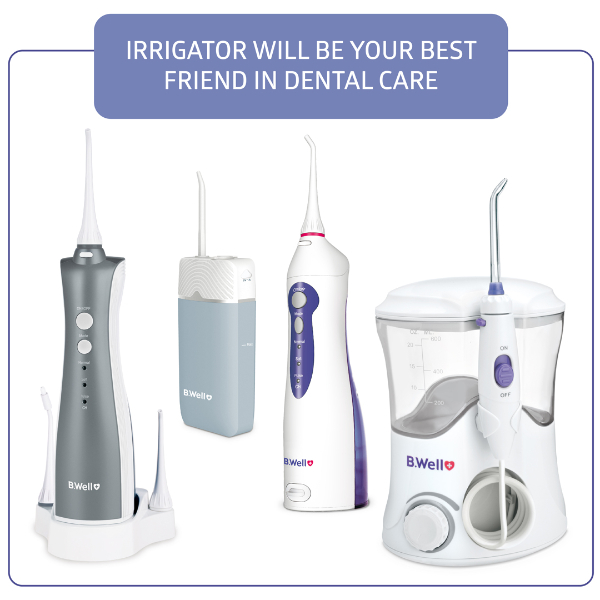 If you have a portable irrigator with all options you want, but you need a special nozzle, then it can be bought separately. To find out more about irrigators, click here. 
Take care of your oral cavity and be well!